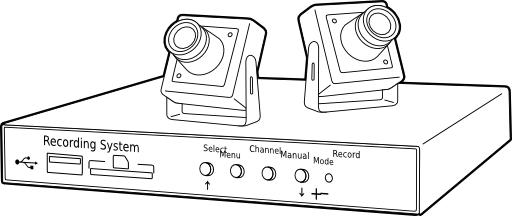 A digital video recorder (DVR) is an electronic device that records video in a digital format to a disk drive, USB flash drive, SD memory card, SSD or other local or networked mass storage device. The term includes set-top boxes with direct to disk recording, portable media players and TV gateways with recording capability, and digital camcorders. Personal computers are often connected to video capture devices and used as DVRs; in such cases the application software used to record video is an integral part of the DVR. Many DVRs are classified as consumer electronic devices; such devices may alternatively be referred to as personal video recorders (PVRs), particularly in Canada.
DVRs [Digital Video Recorders]
Buying a good CCTV DVR Recorder [Digital Video Recorder] is central to an effective CCTV system. We have 4, 8, 16 and 32 channel DVRs for sale which are PC, Mac and mobile compatible. Next working day delivery to most parts of the UK is standard. There is a DVR buying guide if you need help and we are always happy to provide advice over the phone or via email.
Storage options for your chosen DVR can be found under Accessories for DVR Recorders
If you need a complete CCTV system get in touch and we will ensure you buy the right equipment for your particular application. Cameras can be connected to our DVRs using a single length of CAT5e / 6 cable providing 12 volt power to the camera and also video signal back to the DVR or traditional coax / shotgun cable. Using CAT5 cable to connect cameras.
DVRs
Showing 1–15 of 45 results
Showing 1–15 of 45 results